Deck Waterproofing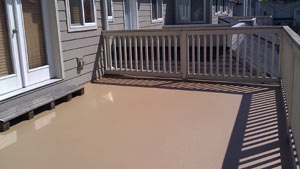 No matter what your deck, patio or walkway is made of — concrete, wood, brick, metal, etc. — there is a Rhino Lining product that protects the property from water intrusion and people from slips and falls.
If water can get to it, corrosion and mildew can set in below the surface causing premature rot and costly repairs and down time.
Rhino Linings offers a level of protection unlike any alternative coating. With unlimited build thickness we have the right product for your walkways, decks, stairs, pavement and other outdoor surfaces. Rhino Linings provides a durable, watertight barrier against environmental damage and wear and tear. We are mobile and can handle large and small jobs onsite. The application is safe, quick and can be sprayed to any thickness. With Tack-free cure times of less than a minute downtime of your operations is reduced to a minimum.
Download the Urethane color chart to pick the right color for your project
Benefits:
– Excellent slip resistance
– Full range available with UV top Coat
– Water proofer
– Seamless
– Allows for flexibility and elongation
– All our product formulations have been time- tested to withstand steady foot traffic, heavy industrial equipment and chemical resistance
– 10 year warranty
– Maintenance free