Trust Rhino Linings: The #1 Consumer Rated Spray On Truck Bed Liners
Cargo, weather and debris — your truck takes a beating from all angles. Just like you, it needs to keep working, no matter how tough the job.
Rhino Linings protects your trucks, fleet vehicles and RV's, bumper-to-bumper, roof-to-chassis with the best spray-on linings in the business. We offer the #1 consumer rated spray-on truck bed liner.
Hand Sprayed with Laser Precision • Backed by a Nationwide Warranty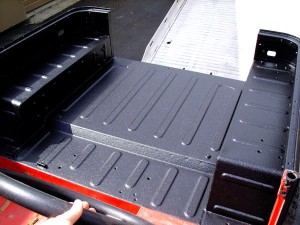 Cheap alternatives will likely cost you more in the long run:
Drop-in Bed Liners might look custom, but they allow water and debris to slip between the liner and the bed, dramatically reducing the lifespan of your truck.
Most other spray-on liners are literally half as good as Rhino Linings. Our coatings are 1/8th of an inch thick, as compared to the industry standard of 1/16th of an inch. How big of a difference is that? Plenty. Rhino Linings are scratch proof, slip-proof and dent resistant.
No alternative has the grip of Rhino Linings. Prevent damage your cargo, cabin and gate by keeping everything you haul in its place.
The Rhino Linings 5 Step Spray:
#1: Fix It–Before we begin, our body shop can pound out minor dents and repair small holes. We don't use harsh, toxic chemicals to etch the bed; we abrade with hand held machines. This process allows Rhino Linings to take an instant hold.
#2: Clean It–High compression air blows out dust, material and debris so that nothing comes between the liner and the steel. A non-toxic acetone wash removes all micro particles.
#3: Spray it–Your Rhino Linings product is applied using a 160-degree, high-pressure spray. Our specialists make laser-perfect lines with pinstripe precision. All natural drainage holes are kept open. We only have — and need — one chance to get it right. Rhino Linings sets in 10 seconds.
#4: Cure It–Finally, we apply the UV topcoat and let it dry.Four hours. Start to finish and you're ready to go.

If someone else promises you a faster installation, they are compromising quality. Invest four hours with us and your truck bed lining will last for the life of your truck.

Beyond the Bed: Bumper-to-Bumper Protection

If you're constantly worried about nicks and dings, you won't enjoy driving your truck and you'll never realize its total performance potential. Give your truck complete corrosion, impact and abrasion resistance with custom Rhino Linings sprays on your grill guards, bumpers, and rocker panels.

Go for a sharp two-tone look with a factory black lining — or color match your truck's finish and add a UV topcoat.

Going off road? Check out the combat-ready military look of a full-body spray:

Rhino TuffGrip®

Recognized as the world's #1 spray-on bed liner! Rhino's famous non-skid grip has an extra durable finish and keeps its rich color. TuffGrip reduces noise from cargo vibration and protects the cabin and gate from impact from sliding cargo.

Rhino Hardline®

A super tough liner at a value price. This super glossy, plastic sheen is scratch resistant.

Rhino Extreme™

High moisture, low temps, Rhino's industrial strength bed liner can handle anything. Rhino Extreme has outstanding chemical and corrosion resistance should your liquid cargo drip, leak and or spill. It bonds to metal, fiberglass and wood panels so it's great for older trucks and fixer-uppers.

RV Roofs

The roofs on campers, trailers and other RV's are often the first things to go. Moon roofs, vents and a large sheet metal (fiberglass?) surface that's constantly exposed to the elements can add up to costly annual repairs.

Rhino Eco-Coat® protective coating quickly and easily rejuvenates aged recreational vehicle and trailer roofs. It costs significantly less than replacing a rubber or vehicle roof every few years. Rhino Eco-Coat protective coating contains UV stabilizers that reflect the sun, resulting in a cabin that's 10 to 20-degrees cooler on hot summer days. Rhino's leafing aluminum pigment forms a long-term barrier against water intrusion.

One spray is guaranteed for 30 years!!

Fleet Vehicles

Contractor vans, delivery trucks, shuttles, busses and flatbeds — Rhino Linings offers package discounts, flexible scheduling and routine safety evaluations to keep your fleets in constant operation year-round.