Trucks
Trust Rhino Linings: The #1 Consumer Rated Spray On Truck Bed Liners
Rhino Linings provides the highest level of corrosion, impact and abrasion resistance for your truck bed, truck grille guards, bumpers and truck rocker panels. Farmers, contractors, outdoorsmen and YOU count on Rhino Linings® products to protect your investment.
If you can think it, we can spray it:
Rocker Panels
Bumpers
Grills
Wheel wells
Nerf Bar
Beyond the Bed: Bumper-to-Bumper Protection
Rocker Panels
If you're constantly worried about nicks and dings, you won't enjoy driving your truck and you'll never realize its total performance potential. Give your truck complete corrosion, impact and abrasion resistance with custom Rhino Linings sprays on your grill guards, bumpers, and rocker panels.
Go for a sharp two-tone look with a factory black lining — or color match your truck's finish and add a UV topcoat.
Bumpers, Grills, Wheel wells and Nerf Bars
Don't let poor prep happen to you
If someone else promises you a faster installation, they are compromising quality. Invest four hours with us and your truck bed lining will last for the life of your truck.
Hand Sprayed with Laser Precision • Backed by a Nationwide Warranty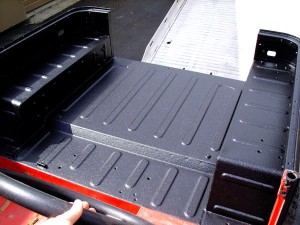 Cheap alternatives will likely cost you more in the long run:
Drop-in Bed Liners might look custom, but they allow water and debris to slip between the liner and the bed, dramatically reducing the lifespan of your truck.
Most other spray-on liners are literally half as good as Rhino Linings. Our coatings are 1/8th of an inch thick, as compared to the industry standard of 1/16th of an inch. How big of a difference is that? Plenty. Rhino Linings are scratch proof, slip-proof and dent resistant.
No alternative has the grip of Rhino Linings. Prevent damage your cargo, cabin and gate by keeping everything you haul in its place.